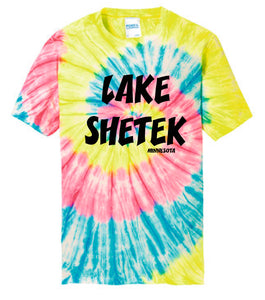 The Lakes
You have your option of Lake Shetek or Lake Sarah print!
Port & Company®
 

Tie-Dye Tee
Product Description
Colorfully cool, this groovy tee is a surefire way to stand out from the crowd. Starting with a prepared-for-dye blank (which has no optical brighteners or bleaches) and cotton thread ensures vibrant color and a standard fit.
The tie dye process infuses each garment with unique character. Please allow for slight color variation.
Choice of Rainbow or Neon Rainbow
 You will be notified when your order is ready to go! Local Pick up only